A top communications official is set to leave the White House later this month, it appears, as the president continues to muddle through not just his administration's response to the coronavirus outbreak but its messaging, too.
Adam Kennedy, a deputy communications director, is on his way out, according to Politico, which reports that he was:



Also a deputy assistant to the president, has overseen a team of 11 communications staffers and also worked on building out messaging materials for various White House policy rollouts, including tax reform. A top research official at the Republican National Committee during 2016, he has worked in the White House since the first day of Donald Trump's presidency.

Kennedy led the White House's rapid response efforts on impeachment and other crises, including Supreme Court justice Brett Kavanaugh's confirmation battle, is leaving the government later this month, according to two White House officials.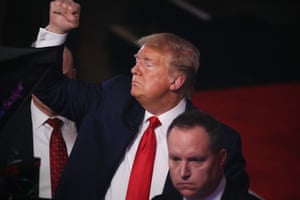 And here's the sting in the tail – right-wing BREITBART:



Kennedy will be replaced by Julia Hahn, a former Breitbart writer who is currently director of rapid response and surrogate operations for the White House, according to one of the White House officials. Hahn will report to White House Press Secretary Stephanie Grisham.
Donald Trump is heading to Nashville this morning to visit areas hit by the deadly nighttime tornado that tore through Tennessee before dawn on Tuesday, killing 25, injuring at least 150 and destroying or damaging almost 600 homes with winds that reached 175mph.
The president will be departing the White House soon, so let's watch out for any comments on the lawn, aka "chopper talk" before he boards the Marine One helicopter to take him to Air Force One and thence the south.
He was originally scheduled to go to Atlanta this afternoon, to visit the CDC, which is at the core of US medical efforts to address the coronavirus outbreak. But that trip was abruptly canceled by the White House this morning.
The president has been making up statistics on a personal hunch about how deadly the disease is and last night vice president Mike Pence, whom Trump has put in charge of his administration's task force to tackle the novel virus that's spreading globally, said the US does not yet have enough equipment to meet testing demands.
Pence was in Washington State yesterday, where the worst local outbreak yet in the US is occurring.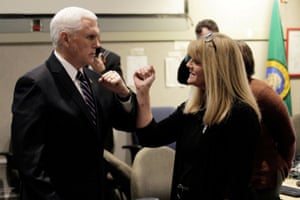 We'll bring you selected US coronavirus news here, but for all the details of global developments, including US news on the illness, do follow our dedicated live blog, here.
And to keep track of how coronavirus concerns are affecting the financial markets, and the latest US jobs figures, there is quick and clear news in our dedicated business live blog, here.
Good morning, live blog readers! It's Friday and there's still a lot of action before the political week in Washington is out and another weekend of 2020 campaigning begins for those remaining in the Democratic race for the nomination. Joanna Walters here in New York to take you through today's developments.
Here's what's afoot:
Breaking news: the White House has unexpectedly canceled a trip by Donald Trump to the Centers for Disease Control and Prevention (CDC) today, the federal agency in charge of national public health in the United States, under the umbrella of the health department. The president was due to visit amid the coronavirus outbreak. There's no official explanation for the cancellation yet.
Meanwhile, the race for the Democratic presidential nomination has narrowed to just three contenders: Joe Biden, Bernie Sanders and long-shot candidate Tulsi Gabbard.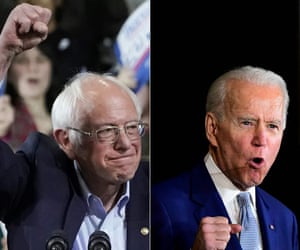 With Elizabeth Warren's announcement yesterday that she would suspend her presidential campaign, the nominating contest is coming down to a face-off between Biden and Sanders.
Biden has momentum on his side after his strong performance on Super Tuesday, when he notched 10 state victories to Sanders' four.
But Sanders is hoping he can pull ahead by winning over a high number of Warren's former supporters.
His first test will come on Tuesday, when six states hold primaries. Those contests will give Sanders the chance to recapture the delegate lead, but if Biden can secure more victories on Tuesday, this primary may be over sooner than expected.