European stocks have followed their Asian counterparts back down – adding another big move to a dramatic fortnight on equity markets.
The FTSE 100 has fallen by 1.8% in opening trades, France's Cac 40 has slumped by 2%, and shares in Italy have fallen by 2.5%.
The Euro Stoxx index has lost 1.6% – with only two gainers across 600 companies.
(With US non-farm payrolls data due later we could be set for yet another bumpy day.)
Good morning, and welcome to our rolling coverage of the world economy, the financial markets, the eurozone and business.
Asian shares have fallen further with the coronavirus outbreak showing no sign of abating in the Europe or the US.
Japan's Topix index slumped by 2.9% and the Nikkei 225 lost 2.7%. The Shanghai Stock Exchange index fell by 1.2% and the CSI 300, which also tracks shares in Shenzhen, lost 1.6%. Australian shares on the ASX 200 lost 2.8%, and the Hang Seng index lost 2.4%.
"No sign of risk appetite stabilising, as the reports of new coronavirus cases spread across Europe and North America, resulting in further event cancellations and profit warnings," said Ian Williams, economics and strategy research analyst at Peel Hunt.
It came after US stocks last night took a tumble – on what will surely be remembered as one of the most tumultuous weeks on stock markets.
Where is all that money going? The bond market. Investors are betting that the US Federal Reserve will step in with more stimulus – after their previous emergency cut.
The yield on US 10-year Treasury bonds, the benchmark for global demand for bonds, has plumbed new depths during the outbreak – far beyond even the financial crisis or the market turmoil that followed the election of Donald Trump as US president.
Yields move inversely to prices, so the steep fall indicates a global flight to safety by investors. Here's a chart, the yield on the US 10-year over two decades that illustrates that amazing run: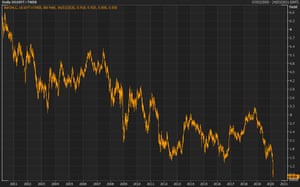 A few days ago the idea of Treasury yields falling below 1% was astonishing to many investors. Today it hit 0.808%. Deutsche Bank macro strategist Jim Reid said:



For bonds […] it's just a straight line down in yields at the moment.
Asset allocation specialists at Société Générale – people who make exactly these kinds of decision on what to buy on a daily basis – suggest that Treasuries do indeed provide the best protection. But they also add that further losses could be limited, and they are raising exposure to Chinese equities:



Policy makers have clearly entered the race, which should prevent – for now – an extended bear market on risk assets.

Containment of the number of new cases has been impressive in mainland China, and we now expect a V-shaped recovery from the second quarter onwards there.
The agenda
8:30am GMT: UK Halifax house prices (February)
1:30pm: GMT: US non-farm payrolls (February)