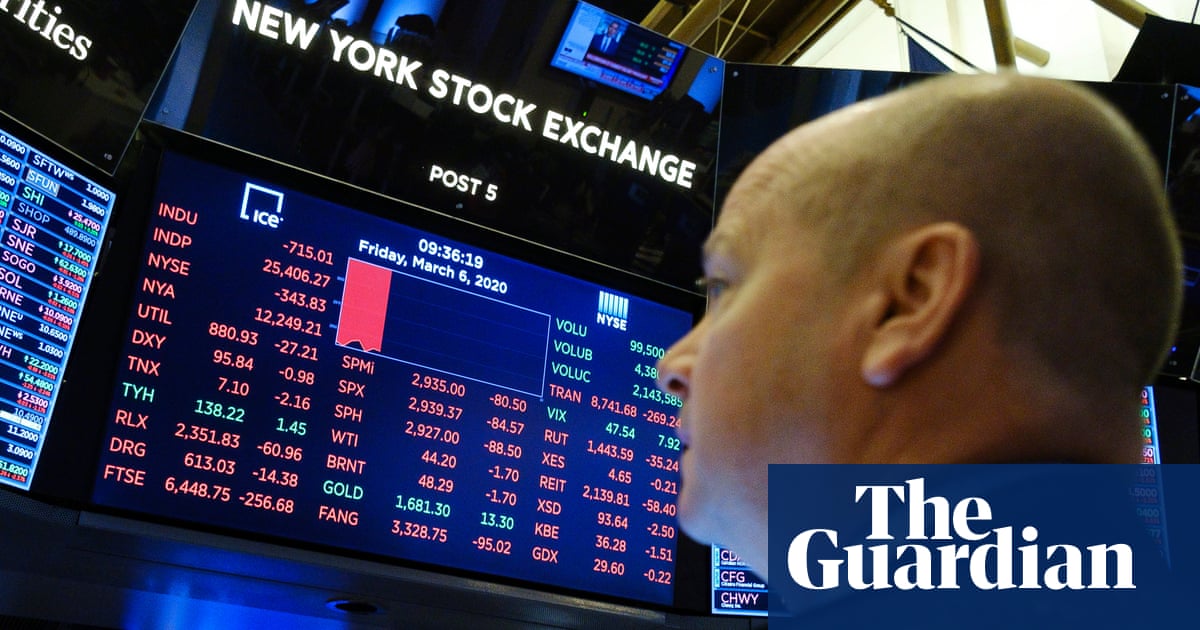 Stock markets around the worldfell sharply on Friday as concerns mount over the economic fallout from the coronavirus outbreak.
As the infection rate steadily climbs worldwide and rising numbers of companies sound the alarm on the hit to profits, impose travel bans and put in place contingency plans to protect staff, the FTSE 100 plunged by about 4% to the lowest level since straight after the Brexit vote in 2016.
The leading index of UK company shares dropped by 270 points to 6,432, with airlines and travel companies among the hardest hit as heavy selling pressure returned to hit markets around the world.
Shares on Wall Street plummeted with the Dow Jones Industrial Average falling by more than 700 points, or 2.8%, in early trading in New York, after a sharp sell-off across Europe and Asia.
As investors offloaded shares in riskier assets, surging demand for safe havens pushed the yield on benchmark government bonds to new record lows – where a lower yield means a higher price. The UK 10-year gilt yield fell as low as 0.206% in afternoon trading, having started the day at 0.33%. The yield on the US 10-year Treasury bond fell to 0.66%, only three days after it first broke the 1% mark for the first time. The trend was reflected in Germany, where the yield on 10-year government bonds fell to a record low of -0.746%.
Chris Iggo of the fund manager Axa Investment Managers said: "The retrenchment of normal business activity is creating victims as well as generating extreme moves in financial markets. We probably won't quickly return to business as usual."
Markets rallied earlier this week as finance minister and central bankers in the G7 group of wealthy nations promised a coordinated response and the US Federal Reserve issued an emergency interest rate cut to support households and firms through the worst of the disruption.
However, analysts have warned that central banks lack adequate firepower to respond to the economic fallout triggered by efforts to contain the disease, as interest rates in most advanced nations remain close to the lowest levels on record following a slow decade of economic recovery since the financial crisis.
Escalation of quarantine measures are expected to hit retail, with travel and tourism firms also reporting weaker bookings.
Analysts at the consultancy Oxford Economics said the spread of the shock across Europe would probably bring the eurozone economy "dangerously" close to recession.