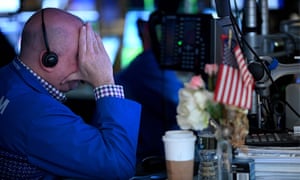 US stock markets closed sharply lower again on Thursday as fears about fallout from the virus outbreak sent more shudders through the financial world.
The Dow Jones sank 968 points, or 3.6%, wiping out most of its surge of 1,173 points a day earlier. Treasury yields sank to more record lows as investors plowed money into low-risk investments.
Markets have been stuck on a rollercoaster for weeks because of uncertainty about how much damage the outbreak of the new coronavirus will do to the global economy.
These vicious swings are likely only to continue, as long as the number of new infections continues to accelerate, many analysts and professional investors say.
The Australian market has followed the lead set by the US and dropped 1.6% shortly after the opening bell as coronavirus fears once again grip traders.
US markets were down about 3.5% overnight (Australian time) after California, the country's biggest state by population, declared a state of emergency and infections in New York City surged.
Travel agencies have taken a big hit on the back of bans on corporate travel and tourism.
Corporate Travel Management, which has been falling for a fortnight, dropped again in early trade, shedding about 6%. It's already been savaged this week, shedding 7.5% on Thursday and more than 9% on Wednesday.
Flight Centre, which has also had a bad fortnight, fell about 5%.
All the big four banks – ANZ, Commonwealth, NAB and Westpac – were down more than 2%, with NAB the biggest loser of the pack at almost 3.7%.